2022… what a year!
Scroll down to deep dive into selected projects,
unexpected creativity, and beloved ideas.
Enjoy!
Punta Conterie
Forme del bere
x
InGalleria Art Gallery
"Close to our body, between hand and mouth and nose and eyes, every day and several times. The drinking glass, one of our everyday objects, serves an obvious purpose that is taken for granted. With a familiar and often quick gesture, we forget that its shape allows a drinking experience that is complex and multi-sensorial: it involves our sense of sight, touch, smell and finally taste. It is a close relationship that brings us relief as well as pleasure, in solitude or conviviality."  – Elisa Testori, curator
Wall&decò with CARTEdition
when wallpaper meets contemporary art
"The "highest" innovation lies precisely in knowing how to free oneself from the traditional principles of "function" characteristic of design, in order to embark on new paths." 
– Christian Tomadini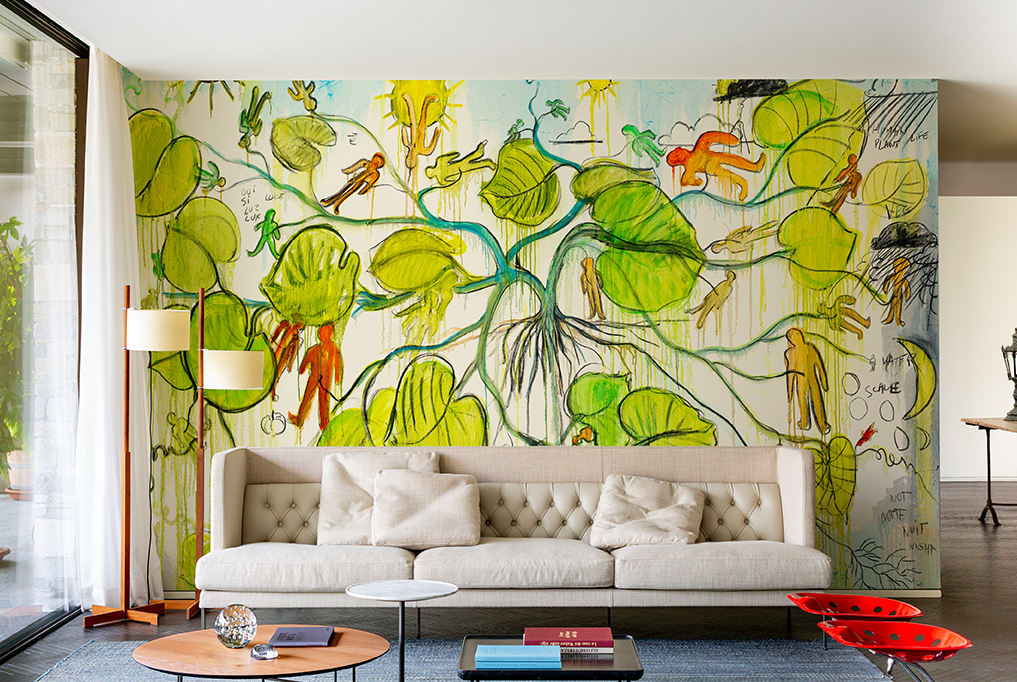 "Organic" by Fabrice Hyber
"I worked for more than 30 years to show the process of art is a part of art. Artist build models and new behaviours. The only possibility to escape the global ruin, is to consider all the possibility of art as an element of life." – F. Hyber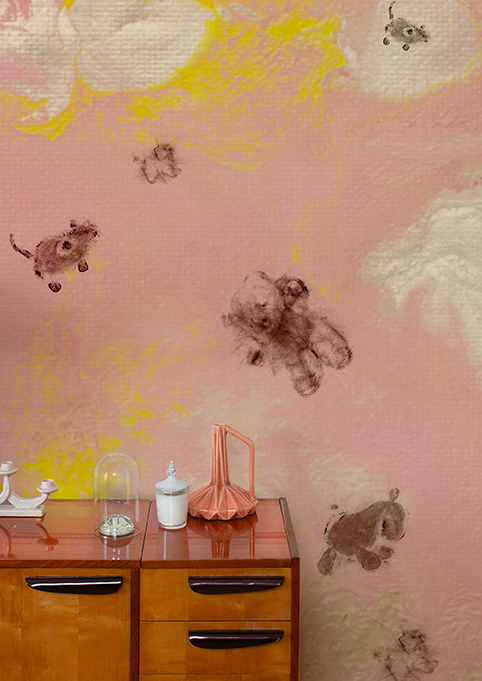 "Traces and Shiny Evidence" by LABINAC
"Our wallpaper is a reimagining of dreams, comfort and beauty."  – LABINAC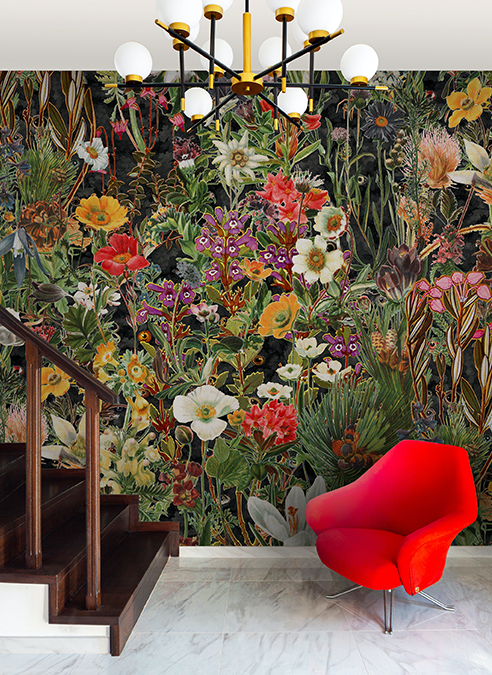 "Now What?" by Francesco Simeti
"You guys are running out of time." – F. Simeti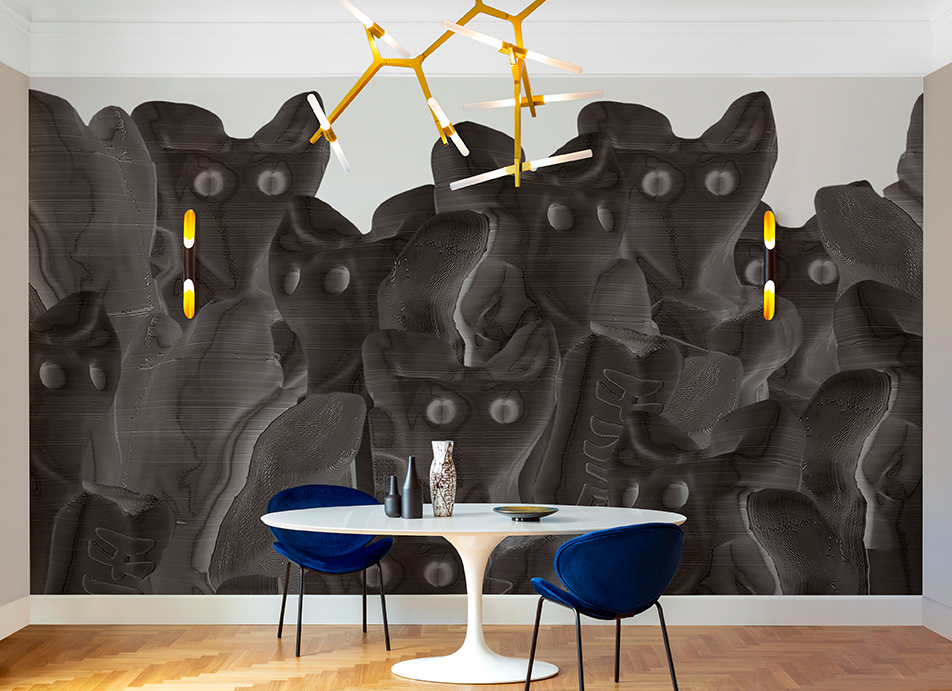 "Maneki Neko" by Riccardo Previdi
"When you're a kid, you just need to drill a couple of holes in a box to build a castle.
Wallpaper is nothing more than this, a little bit of artfulness that can transform our home environment into a fantastic place." – R. Previdi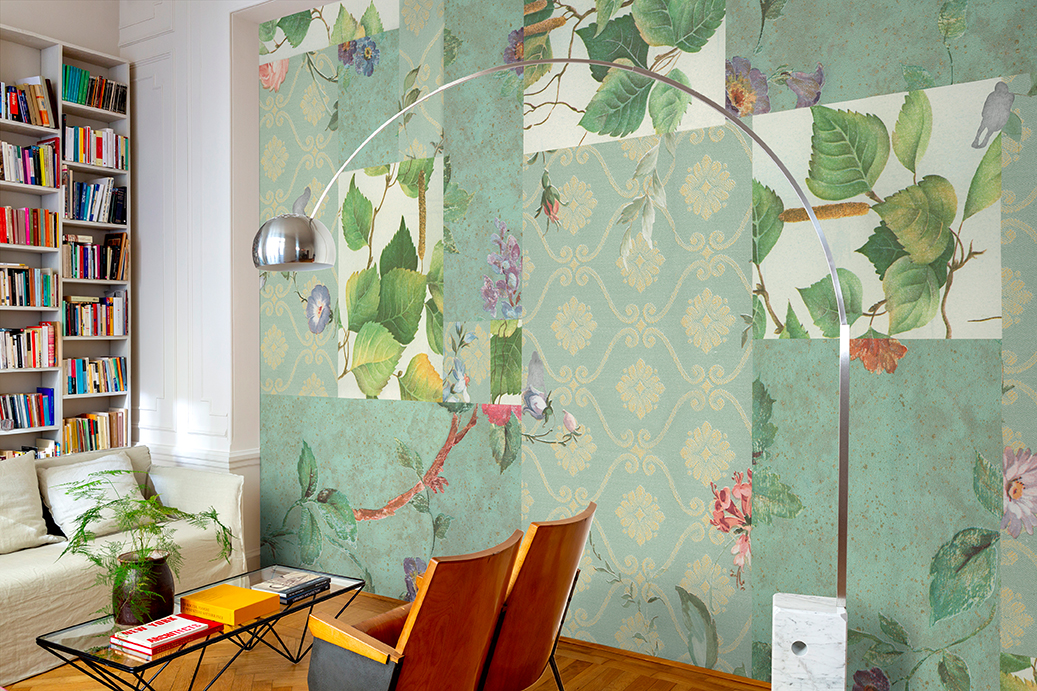 "1:5" by Donatella Spaziani
"Art can restore a more authentic idea of beauty and value that pushes us to discard the superficial. Wallpaper has this possibility within itself." – D. Spaziani
☆
Arcipèlago
"It seemed to contemplate the birth of the world, an untouched world, where man did not yet exist." – Charlotte Menard & Artemio Croatto about 2.190° Fahrenheit – on the edge of volcanoes exhibition
"Whether it's current events or majestic nature, what links these themes is the ambiguous charm that exerts on me the American visual imagination. To avoid falling into stereotypes, I wanted to use an iconography typical of the United States, telling America with my gaze, that of a foreigner." – Giona Maiarelli about Cosa rimane del giorno – What's Left of the day, collage by Giona Maiarelli and Vanda Gemino exhibition
☆
Ephemera. Intangible Culture Festival
We are always left in that mysterious hiding-place that connects discovery and wonder in a delicate but important dialogue with the historical and natural context in which they are immersed, and where they are to be sought.
"Alchemy is a good term to describe this very successful joint adventure that combines paths that are so different yet so similar in terms of feeling." – Eleonora Cedaro
"I am fascinated by unconventional exhibition spaces, the places where nature is the star and where art is inserted into unusual contexts, thus communicating both with the surrounding landscape and with the communities that live within or move across it." – Michela Lupieri
"… I have been able to carry out wonderful projects, based on participation and the creation of territorial networks: by collaborating with public and private institutions, schools, social cooperatives, cultural associations, by linking professional artists and communities we are carrying out projects that, in addition to artistic output, have an impact in terms of promoting social inclusion and the psycho-physical well-being of individuals, training, urban regeneration, cultural and tourist enhancement of sites." – Rachele D'Osualdo
"I really love working on projects that exist thanks to a collective effort… and I see, in the network of people created for Ephemera and around Ephemera, an inestimable potential for contemporary art in Friuli Venezia Giulia, which should be expanded as the festival is repeated." – Caterina Erica Shanta
☆
Synesthetic Experiences : Genuardi / Ruta
"For Camus, the Mediterranean is the search for measure, in a dialogue between its liquid, infinitely changing being and the earth. A place where East and West coexist, and an identity that arises from the dialectic of opposites. These are the foundations that continue to fuel our journey and that over time have led us to analyse many other aspects that enrich our research today." – Antonella Genuardi
"Sicily is a great place of inspiration, from mortar to pigments, to the coexistence of different architectural styles, it is a place whose beauties you must be able to grasp." – Leonardo Ruta
☆
Exhibition Notes by Rosa Barba
"In my work, I interrogate the industry of cinema with respect to various forms of staging, such as gesture, genre, information, and documentation, taking them out of their conventional contexts and reshaping and representing them anew. In this way, I experiment with and expand time-based forms into sculptural objects or speculations, that is, into spaces that are self-organised; it is an ever-changing, ever-evolving shifting process." – Rosa Barba
☆
Presenting Christian Fogarolli
"The interactions are many and varied; in recent years international collaborations have taken shape with ethnographic, anthropological, medical, natural history museums, medical research centres, mental health support centres and research institutes that use new technologies related to treatment.." – C. Fogarolli
☆
Synopia, synopsis, synapses
by Alex Dorici and Yari Miele
"It was amazing to enter the place where the essential elements for my artistic expression are built, which happened at the meeting with the Gottifredi Maffioli company. Thanks to this experience I had the opportunity to follow the development and creation of the naval rope that I love to pinpoint as one of my many brushes." – Alex Dorici
"When the lights went out, the threads emerged, the soul of the peaks … straight, undulating lines that float in space, like an energy flow … plots of a mysterious, energetic source … like an impalpable third dimension." – Yari Miele
☆
The Suspended Guest
by Matteo Lavazza Seranto
"This installation, which is a sort of photographic gallery, is an ode to memory, to the space of time that expands or shrinks. Depending on one's needs. I see an interspace between the past and the future. This laid table comes alive and generates static images of what potentially happened or could have happened around it." – M. L. Seranto
☆
Suri x Marco Rambaldi
"I listen and observe carefully, and what I see is the desire to freely communicate one's identity and stand out, offering support and giving a voice to those who have no opportunity to express themselves. Perhaps all of this can be defined as Post Romantic Poetry." – Giulia Vecchiato / Suri
☆
Baiba Glass
"When I am creating my art I have feeling that the glass is alive and lives its majestic life through changing shine of light. Glass will always be more than just a material to express myself." – Baiba Dzenite
☆
Aventurines, transformation and other stories
by Lorenzo Vitturi
"I was intensely mesmerized by what to my eyes appeared to be an ancestral group rite, when the oven's mouth opened and I understood the depth and archaic power of your origins: within the furnace swirled a living orange flame with yellowish streaks. It gave off a violent heat; I could feel my skin burning. You're the son of Hephaestus, the god of fire, forges, engineering, shaping, sculpture. The image of fire has remained clearly etched in my memory." – L. Vitturi
☆
Plečnik House
by Lisa Corva
"Do houses speak? I've always thought that the house of the legendary architect Jože Plečnik, the genius loci of Ljubljana, spoke only his language, that of architecture and a certain mysticism. But no! Yeah: I really enjoyed the exhibition curated by Luca Lo Pinto, director of Macro in Rome, and the Berlin artist Olaf Nicolai, friends (including mine) of many years of stories and secrets, because they have they have scattered stories, objects, voices, clues in the house. Together with artists from around the world. The house has become a magic box, and the exhibition will be open until January 9, 2023." – Lisa Corva
☆
Purho
Laguna Collection by Ludovica+Roberto Palomba
"It is a great thrill to continue our personal and intimate investigation on Murano. Today, in collaboration with Purho, we want to tell and represent the nature of the elements through glass and its materiality…
The results are generous and powerful vases and centrepieces, unique and unrepeatable and for this we have worked with a free-hand methodology. No moulds or constraints. Free processes just like water bending to the elements in ripples, waves." – Ludovica+Roberto Palomba
… and it's a wrap! Thank you all.
☆